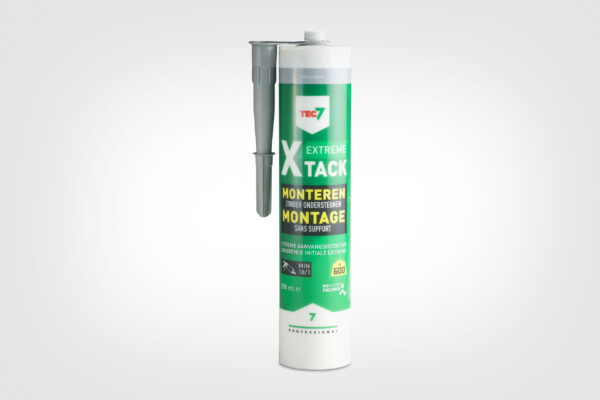 adhesivo de montaje X-tack
Este adhesivo de montaje X-tack es ideal para pegar, por ejemplo, el perfil inferior de su pared de cristal. Así se evita el riesgo de romper las tejas.
La capacidad de carga es de 25 kg por centímetro cuadrado de adhesivo.
Leer más
€23.00
Please choose the quantity of items you wish to add to your cart…
Características
Súper fuerte incluso antes del curado: 600kg/m²
Estable en espesores de adhesivo de hasta 40mm.
Permanentemente elástico.
Libre de ftalatos, disolventes e isocianatos.
Casi inodoro
También en superficies húmedas y resbaladizas.
Resistente al moho y a las bacterias.
Estanqueidad al agua y al aire
Para ser utilizado en la mayoría de los materiales de construcción.
Acerca del producto
formación de la piel después de: aproximadamente 3-5 minutos
Curado:

24 horas: 2.7 mm
48 horas: 4 mm

Dureza Shore (DIN 53505) después de 3 semanas a 23°C/50% humedad relativa: +/- 54 Shore A
Elasticidad: > 500%.
Resistencia química:

Bueno: agua, agua salada, disolventes alifáticos, aceites, grasas, ácidos orgánicos diluidos y álcalis
moderado: ésteres, cetonas y aromáticos
malo: ácidos concentrados y disolventes clorados