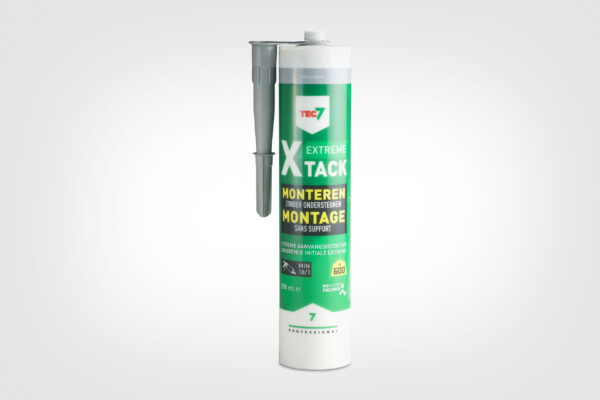 X-tack mounting adhesive
This X-tack mounting adhesive is ideal for gluing e.g. the bottom profile of your glass wall. This avoids the risk of breaking the tiles.
The load capacity is 25 kg per square centimetre of adhesive.
Read more
€23.00
Please choose the quantity of items you wish to add to your cart…
Features
Super strong even before curing: 600kg/m².
Stable in adhesive thicknesses up to 40mm.
Permanently elastic.
Free of phthalates, solvents and isocyanates.
Almost odourless
Also on wet and slippery surfaces.
Mould and bacteria resistant.
Water and air tightness
For use on most building materials.
About the product
skin formation after: approximately 3-5 minutes
Curing:

24 hours: 2.7 mm
48 hours: 4 mm

Shore hardness (DIN 53505) after 3 weeks at 23°C/50% relative humidity: +/- 54 Shore A
Elasticity: > 500%.
Chemical resistance:

Good: water, salt water, aliphatic solvents, oils, fats, dilute organic acids and alkalis.
moderate: esters, ketones and aromatics
bad: concentrated acids and chlorinated solvents